Pan-Canadian Graduate Courses
Idea
Graduate courses taught by one (possibly several) instructor with students attending both locally and remotely from institutions distributed across Canada.
How Does It Work?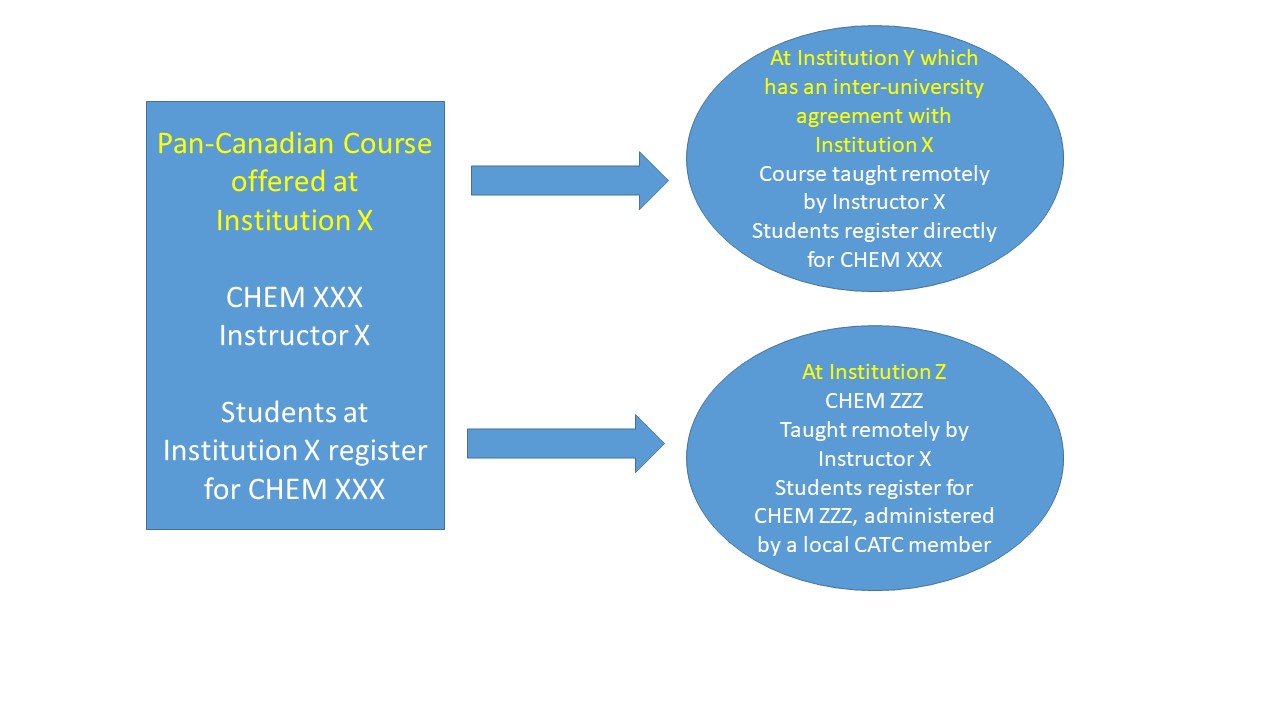 Imagine pan-Canadian course CHEM XXX is taught by Instructor X at Institution X. Students at that institution simply register for the course, as usual. If inter-university agreements permit, students at other institutions may also be able to register directly into CHEM XXX. If not (and if local regulations allow), students might be able to register in existing local courses that map to CHEM XXX (see ovals in figure). These courses are usually "Topics" or "Directed Studies" courses or ones with descriptions similar to CHEM XXX. Students enrol in these local courses, and receive grades and course credit for them. A local CATC member ensures the local course is open for registration and takes care of the local admninistrative requirements (expected to be a very light duty so no teaching relief at the local institution should be required). If this "local course" option is not available then students might be able to register as non-local students (but presumably then need to pay tuition for the course).
Instructor X delivers the course with some students being local, and others joining remotely from other institutions, using video conferencing software, such as Zoom, or any other software desired. Courses are delivered synchronously with the class meeting at specified times, and the course instructor is available both locally and remotely for students.
Read More
Duties of Local Faculty Representative
Only needed if no inter-university agreements exist allowing students to register directly into pan-Canadian course.
Help local students register in pan-Canadian course using either the local course strategy or another one.
If a local course strategy is used then

Determine mapping of pan-Canadian course to local course
Ensure the local course is open for registration
Ensure a suitable room is available locally, if needed.
Be the "instructor" for the local course (for local administrative purposes)
Coordinate with course instructor
Provide course instructor with names and students numbers for local students
At the end of the course, enter student grades (converting them, as necessary) into the local grade management system
Provide local invigilation if written final exams are required by the course
Provide any other assistance to the course instructor, as may be necessary
Duties of Pan-Canadian Course Instructor
Coordinate with local faculty representatives at each institution which will have students enrolling in the course, as needed
If possible, set a course time that is timezone-friendly for students residing anywhere in Canada
Ensure an appropriate video conferencing platform is used so that all students are able to participate in the class
Make themselves available to students, whether local or remote.
Relevant Inter-University Agreements
Graduate Exchange Agreement - allows graduate students in good standing at UBC, McGill University, the University of Toronto, and the Université de Montréal to take courses at each other's universities without having to pay tuition fees to the host institution. Please consult the host institution for appropriate forms and procedure.
Some institutions have registration for special student status, allowing non-local students to register in graduate courses, even if a general inter-university agreement is not in place. Your institution may have this.
For Faculty Members
If you would like to offer your course as a pan-Canadian one, or if you would like to be a local representative to make pan-Canadian courses accessible for students at your institution, please email Mark Thachuk.
For Graduate Students
If you would like to enrol in a pan-Canadian course, consult the list of courses being offered below. Please contact the course instructor to inquire about the number of seats currently available (if enrolment is limited), the course's precise start date, and for any further information about course content. Consult the CATC Members list and find one which is designated as the local representative at your institution. If none is so indicated, please contact one of the members at your institution and ask whether they would be willing to serve as a local representative (as describe above).
Pan-Canadian Course Offerings: 2023-2024 Academic Year